Product Description
FIllex's RFC-W series Water Filling Machine is one of advanced models which is our company combines international advanced self-filling process and technology developed specifically for mineral water, pure water and other non-gas beverage filling installation.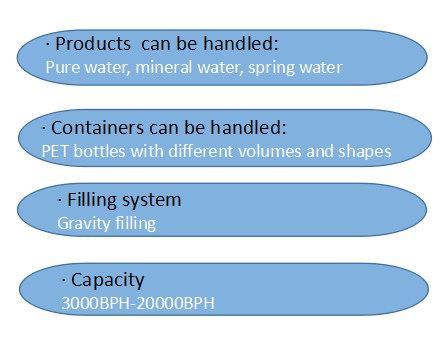 1 Direct connection technology between air conveyor and in-feeding starwheel is applied to replace in-feeding screw and conveying chain to ease bottle changing process with only to change few parts. Newly-designed bottle-separating grippers are assembled to starwheel.
2 We adopts Neck-hanging technology in bottle transportation. Instead of traditional starwheel, we use neck-hanging gripper to make bottle-size-changing easily , without equipment height adjustment ,only few parts need to be adjusted
3 Specially-designed rinser grippers which are made of stainless steel are firm and endurable, with no contact to screw part of the bottle to prevent second pollution.
4 High-speed, easily-cleaned filling valves with big flow volume are equipped with well CIP system and control system to rinse the equipment thoroughly.
5 splint of starwheel using twist descending way to simplify the process of bottle-size-changing. Only need to change arch board and starwheel, within ten minutes.
Model(RFC-W)

32-32-8

40-40-10

50-50-12

Capacity(BPH)

15000

18000

22000

Rinsing water Pump Power(KW)

0.37

0.37

0.37

Suitable to Bottle Shape

Round and Square container Bottle diameter: 50-120mm Bottle Height: 160-320mm

Drive Motor

3.92

5.87

7.87

Rinsing Time(s)

1.92

2

2

Drain Time(s)

1.7

1.2

1.2

Water Consumption(T/H)

2

3

3

Compressed air consumption

(m³/min)

0.8

0.8

0.8

Dimension(L*W*H)mm

3550*2650*2700

4700*3320*2700

5900*4150*2700
Detailed Pictures: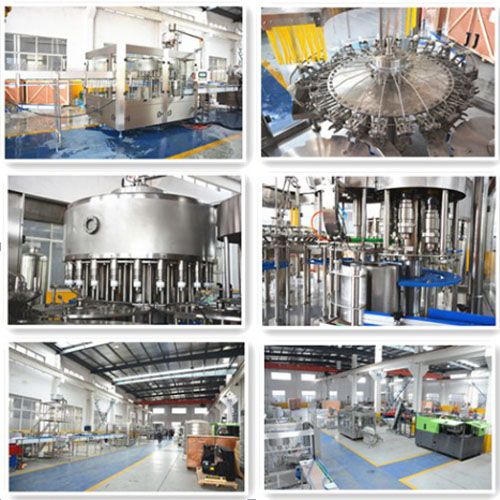 Welcome to contact us for further information of Carbonated drink filling line.