The series CNC horizontal boring and milling machine uses a single column, side-hung box layout. Main features of machine rigidity, structural symmetry, fast dynamic response, high precision, good stability. Machine tools milling, drilling, boring, reaming, tapping, countersink, and other processes. Parts can be efficient in one clamping, four sides of high precision parts processing for a variety of processes.
Applicable for surface milling and holes. Can also surface milling. Spindle box ends are designed with flat Chuck radial turret, boring a large plane, cylindrical end surface and grooves. Workbench by four points, positioning, manual Rotary structure (optional rat tooth structure-NC rotary table 360*1 °) x, y, z axis controlled by CNC system, it can realize three axes.
Bored shaft Flex and flat rotating the servo motor control, enables automatic processing. X, y, and z axes with rectangular sliding Rails, Teflon plastic technology, good shock absorption, and high accuracy. The headstock is equipped with automatic balancing. Spindle, swing by AC servo motor control.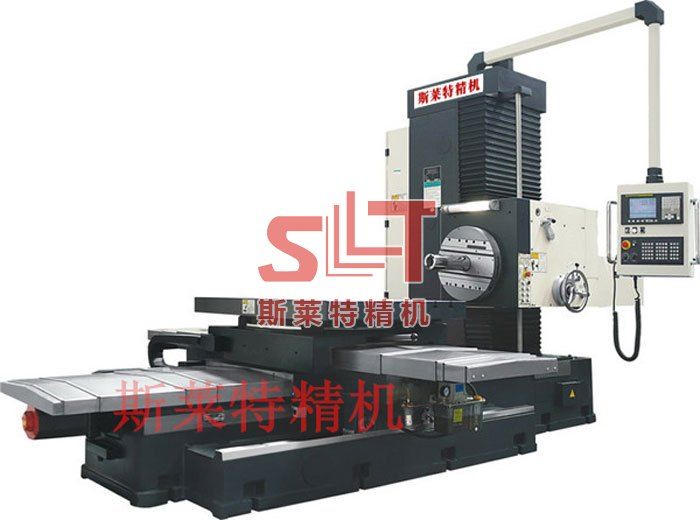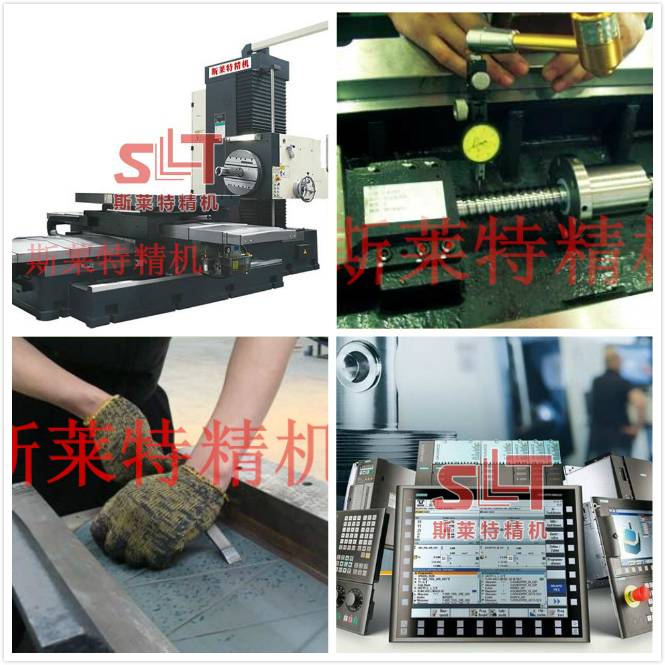 Main technical parameters

Work unit

TK611 CNC horizontal boring and milling machine




Spindle diameter

mm

Ф110




Longitudinal travel of table z

mm

1350




Cross travel of table x

mm

1250




Spindle box vertical travel y

mm

900




Boring-axial stroke w

mm

550




Maximum boring diameter

mm

Ф240




Maximum drilling diameter

mm

Ф50




The maximum required torque spindle distance

N.m

1100




Work table size l z w x

mm

Z: 1320 X: 1010




Max load-bearing

kg

2500




Spindle Center to table distance

mm

5-905




Spindle taper




BT50




Flat Chuck maximum machining diameter

mm

630




Flat Chuck feed range

mm/ min

0.2-330




Rapid feed rate (XYZ)

mm/ min

5000




Spindle speed range

rpm

12-1100




Speed range of flat Chuck

rpm

4-130




Feed range

mm/ min

0.5-1000




Spindle motor power

KW

11/15




Positioning accuracy

mm

0.035 total travel




Repeat positioning accuracy

mm

0.018 full stroke




Overall dimensions

mm

5375*2995*3035




Total weight

kg

12500








Select the configuration NC rotary table:

Table rotating method

CNC rotation

CNC indexing table indexing interval (b-axis)

5°

CNC indexing table maximum speed

5.5 rpm

CNC indexing table indexing accuracy

10'

CNC indexing table repeated indexing accuracy

4'









T611 Boring machine, Czech Republic T611 Boring machine. T611 Parameters of boring machine, boring machine model, boring and milling machine model, CNC boring and milling machines, horizontal boring machines, horizontal boring machine model, horizontal boring and milling machine model, normal boring and milling machine. TK611 CNC boring machines, CNC boring machines, CNC boring machine prices CNC boring machine programming, CNC boring machine manufacturers, the precision of numerical control boring lathe, horizontal boring and milling machines, CNC boring and milling machine