Vertical processing Center main for processing Board class, disc class pieces, shell body pieces, mold, precision high, process more, shape complex of parts, can in once loaded clip in the continuous completed milling, drill, spread, hinge, boring, attack silk and the II dimension three dimensional surface, cant of precise processing, processing achieved programmed, shortened has production cycle, to makes user get good of economic.
I. functions and features description
1 overall layout of machine tool
Vertical machining centers vertical frame layout, bed, table, slides, columns, spindle box, large parts are made of high strength resin alloy inoculation HT300 Meehanite, two aged to eliminate stress. The large pro/e and Ansys is used to optimize the design, improve cargo and machine stiffness and stability, suppress the machine deformation of the cutting force and vibration.
2 machine tool Guide
Machining center guide with multiple aging and depth of not less than 3mm Super Audio hardening process, imports by rail grinder for precision grinding. Rail contact surface with artificial high precision lapping and shovels spent and attached to imported PTFE-b, good shock absorption, remain permanently stable precision.
3 motor systems
X, y, and z-axis guide of linear rolling Guide, dynamic and static friction small, high sensitivity, high speed vibration, without crawling at low speed, high precision, servo-driven performance, improve the accuracy and stability of machine tools.
X, y, z axis servo motors through elastic coupling with high-precision ball screw directly, reduce intermediate links, free space transmission, flexible, accurate, high drive precision.
Z axis servo motor with auto brake function, in the case of power outages that can automatically brake to hold the motor shaft so that it can't move, play a role in security. Spindle box adopts the nitrogen balance, lift running smooth, reverse-sensitive response, no impact, reduce servo response lag, can greatly improve the precision of the workpiece surface and surface roughness
4 spindle unit
Spindle unit using Taiwan brand products, with high precision and high rigidity. Bearings with P4 spindle bearings, spindle packages in the condition of constant temperature after Assembly is complete, by balancing and running tests, improving the reliability of the entire service life of the spindle and.
Spindle speed range can realize stepless speed spindle with built-in encoder motor control, spindle orientation and rigid tapping capability can be achieved.
5-tool library
Disc cutter, mounted on the column side tool changer cutter driven by roller cam and when positioning spindle reach tool change position, by machine tool changer (ATC) also send knives and knife, ATC for roller gear cam, after preloading high-speed noise-free operation, makes the tool changing process fast and accurate.
6 cooling system
Equipped with a high-flow cooling pumps and bulk tank, fully guaranteed circulation cooling, headstock face equipped with cooling nozzles can be either water-cooled or air-cooled, and freely switch cooling process can be controlled through the m-code or control panel. Configure clean air guns, used to clean the machine.
7 pneumatic systems
Pneumatic FRL to filter impurities and moisture in the air to prevent pure gases for damage and corrosion of machine parts. Electromagnetic valves by PLC program control, ensure the spindle knife, spindle air, shaft tool holder, spindle air cooling and other actions can be completed quickly and accurately.
8 machine tool protection
Machine safety standards of protection, both to prevent coolant splash, and to ensure safe operation and pleasant appearance. Press the guide have a protective cover to prevent chips, cooling liquid into the machine tool, guides and ball screw from wear and corrosion.
9 lubrication system
Guides, ball screws automatic centralized oil lubrication is used, each node features quantity oil separators, and timing to the lubrication oil to ensure uniform lubrication sliding surface, effectively reducing the frictional resistance, improves the precision of movement and guarantee the service life of the ball screw and guide.
10-chip system
Iron produced in the process falls directly on the protection, protective inner bevel design allows very smooth sliding with iron filings to flutes, then screw chip conveyor to transport iron into the scrap car, simple, practical and economical.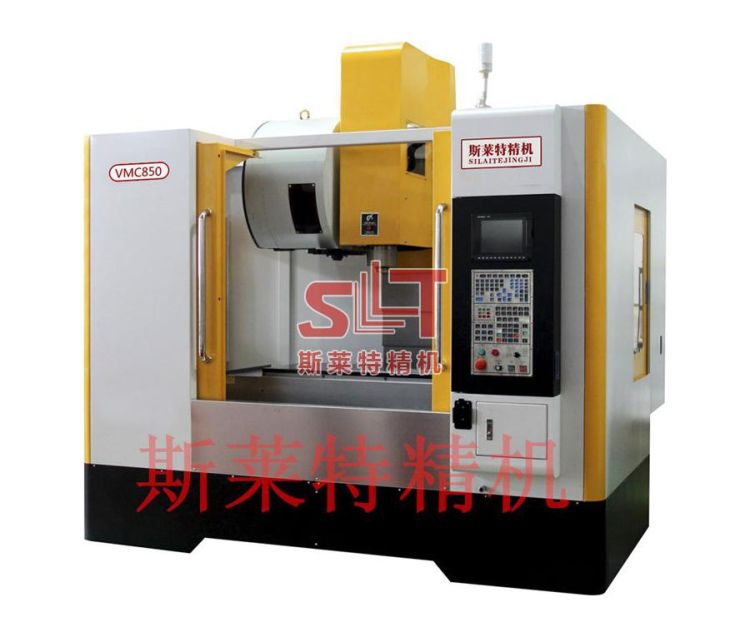 VMC850/VMC1060 vertical machining center parameter:
Machining center type:

VMC850

VMC1060

Working table area

1000mmX500mm

1300mmX600mm

T-slot

5-18H8

5-18H8

About travel (x axis)

800mm

1000mm

Travel (y axis)

500mm

600mm

Stroke (z axis)

500mm

600mm

Distance from spindle Center to column guideway

575mm

660mm

Distance from spindle nose to table surface

110-610

180-610

Spindle taper

BT40

BT50

Spindle taper hole/rivet

BT40

BT50

Spindle power (base configuration)

7.5 KW (spindle)

11KW (spindle)

Maximum speed (base configuration)

8000rpm

8000rpm

Maximum feed speed

6000mm /min

6000mm /min

Rapid traverse (X/Y/Z)

16000mm /min

16000mm /min

Positioning accuracy (x, y, z)

Half loop 0.015 machine

Full closed-loop machine 0.008

Half loop 0.018 machine

Closed-loop 0.01 machine

Repeated positioning accuracy (x, y, z)

Half loop 0.008 machine

Full closed-loop machine 0.004

Half loop 0.01 machine

Full closed-loop machine 0.005

Length x width x height

2700X2350X2630mm3

3500X3000X2950mm3

Max load weight

500Kg

600Kg

Weight of machine

5200Kg

8000Kg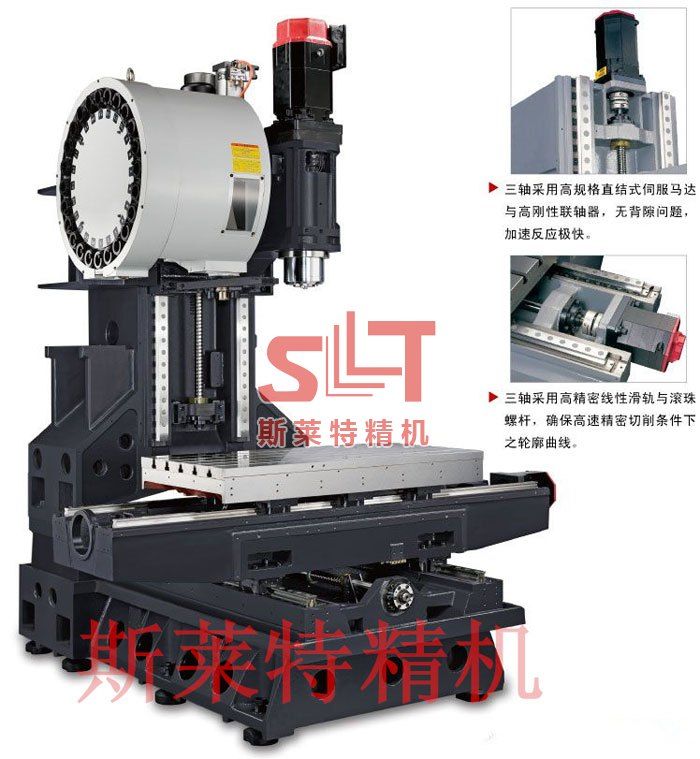 VMC1370/VMC1580 vertical machining center parameter:
Machining center type

VMC1370

VMC1580

Working table area

1500mmX700mm

1700mmX800mm

T-slot

5-18H8

5-18H8

About travel (x axis)

1300mm

1500mm

Travel (y axis)

700mm

800mm

Stroke (z axis)

700mm

700mm

Distance from spindle Center to column guideway

800mm

850mm

Distance from spindle nose to table surface

160-860

170-870

Spindle taper

BT50

BT50

Spindle taper hole/rivet

BT50

BT50

Spindle power (base configuration)

15KW (spindle)

18.5KW (spindle)

Maximum speed (base configuration)

8000rpm

8000rpm

Maximum feed speed

6000mm /min

6000mm /min

Rapid traverse (X/Y/Z)

16000mm /min

16000mm /min

Mm positioning accuracy (x, y, z)

Half loop 0.025 machine

Full closed-loop machine 0.015

Half loop 0.035 machine

Closed-loop 0.018 machine

Repeatability mm (x, y, z)

Half loop 0.015 machine

Full closed-loop machine 0.008

Half loop 0.018 machine

Closed-loop 0.01 machine

Length x width x height

3900X3200X3000mm3

4300X3300X3500mm3

Max load weight

700Kg

1500Kg

Weight of machine

9000Kg

13000Kg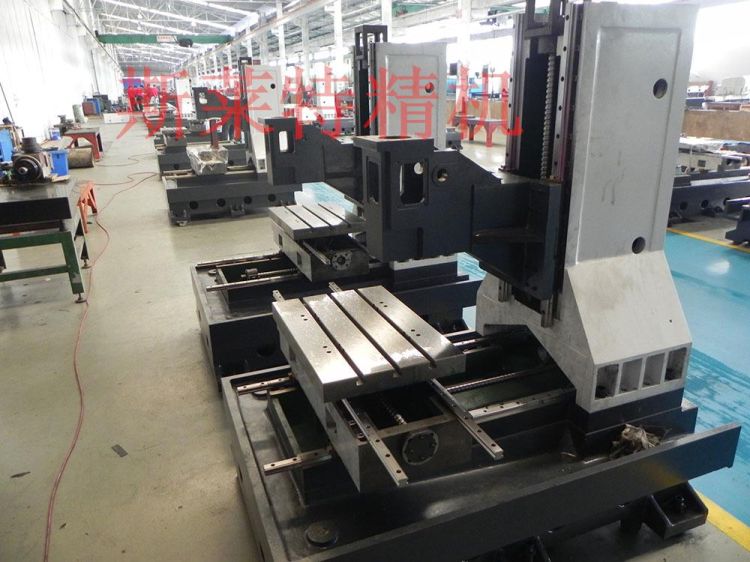 Slater vertical machining center main configuration
| | |
| --- | --- |
| Bed | Breed alloy cast iron, many aging treatment |
| Ball screw | Taiwan INtime PMI (double nut pretension mechanism) |
| A ball screw nut | Taiwan INtime PMI |
| Ball screw bearing | Japan NSK |
| Coupling | Taiwan-German joint venture |
| Spindle | Taiwan Hampson 8000RPM |
| Linear Guide | Taiwan is silver |
| Numerical control system | Beijing KND standard, optional Fanuc, Mitsubishi, Siemens |
| Tool storage and tool change system | Taiwan disc library, Taiwan knife-cylinder |
| Slideway protection- | Stainless steel protective |
| Servo motor | Japan An Chuanbiao, and an optional Mitsubishi, Siemens |
| Hand-held remote control unit | Import |
| Limit switch | Germany-Palestinian Luffy |
| Communications interface | Standard RS232 interface |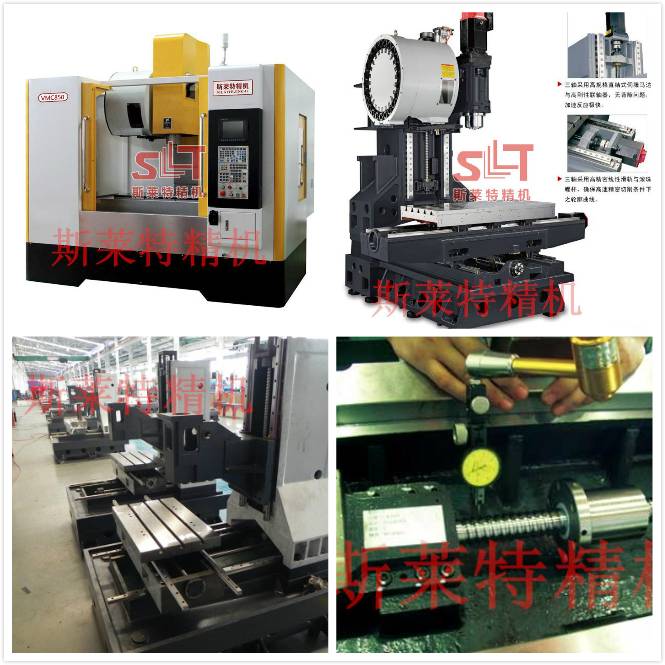 Standard configuration:
Kaiendi/Canton/central China/Taiwan new generation, such as domestic systems
Taiwan brands of high-speed precision spindle/disc tool magazine
INtime/ball screws hiwin linear Guide/
Headstock nitrogen balance/fully-enclosed protective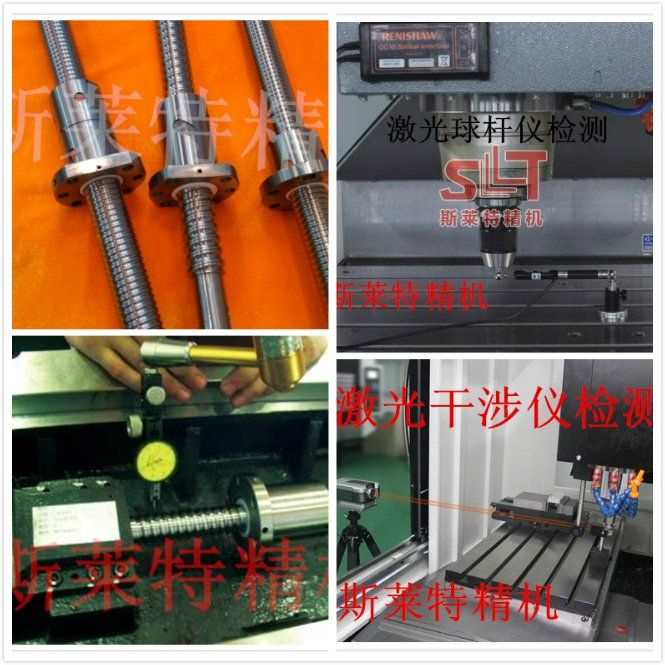 Select the configuration:

Matching IV axis v shaft of machine tool
Spindle oil cooler/spindle/
Germany Switzerland imported high speed and high precision motorized spindles
Germany/ball screw linear guides/inlaid
Mitsubishi/Siemens/Fanuc/HEIDENHAIN/systems
Imported CNC HEIDENHAIN linear scale and distribution system
Processing Center parameter, processing center features, processing center light machine, processing center imports, processing center how many money a Taiwan, processing center IV axis price, processing center model, processing center price, vertical processing center parameter, vertical processing center features, vertical processing center light machine, vertical processing center imports, vertical processing center how many money a Taiwan, vertical processing center IV axis price, vertical processing center model, vertical processing center price, NC processing center quotes, NC processing center parameter, NC processing center features , CNC machining center, CNC machining center axis IV price model of NC machining center, CNC machining centres