Drilling center is a metal cutting CNC machine tools, also commonly known as' tapping drilling and milling center '' drilling and tapping center '' 'drilling and milling center' 'drilling and milling center', etc. Part One is the market Cutting , drilling, tapping efficiency as one of the fastest and high-precision machine tools by conventional metal cutting machine tools - vertical machining Center (computer gong) derived from, the processing area and travel more traditional vertical machining centers with smaller, mainly used for processing small light metal, is not suitable for heavy cutting. configure usually clamp arm servo magazine or magazine, BT30 direct-spindle, large pitch roller screw and linear guide.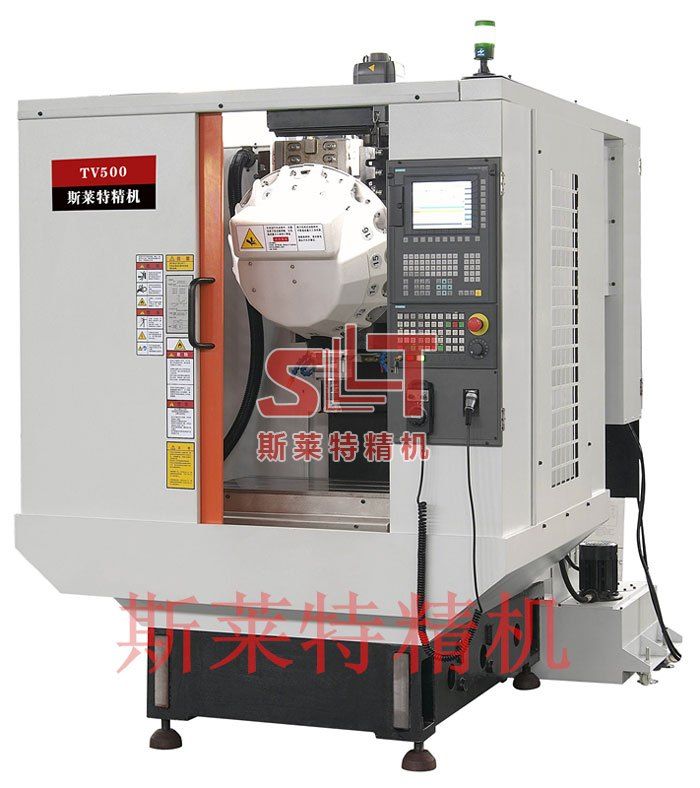 TV series to strengthen the value of the drilling center and see the major domestic and foreign manufacturers of excellent models be improved, high speed and high feed movement is the most fundamental need to increase the standard screw and rail lines, ensuring high accuracy and high rigidity.
1. The three-axis rapid traverse 48/60 meters, greatly reduced processing time.
2. High-speed servo tool changer, fast and stable, reduce non-processing time.
3. Direct high-speed spindles flexible response, turn the tap up to 4000-6000.
4. heightening column design, installation of the first reserve 4, 5-axis space.
5. The chip selection machine back style, there are red chip crumbs best angle and large flow operation.
6. The column and base a common plan large span structure, high rigidity body, if the firm rock.
Drilling center machine features:
Taiwan imports of selected three-axis ball screw, linear guide, high rigidity, low noise, low friction, high sensitivity, can increase the processing speed and accuracy.
Full range of models are used in Taiwan UFO clamp arm type tool magazine, planning front-pneumatic cylinder of high stability, fast and accurate gripping arms magazine, the fastest tool change time up to 1.2 seconds, in addition to parts processing, but very suitable milling relatively small hole short nose spindle design.
Short spindle nose design, the spindle motor transmit power to maximize cutting particularly good rigidity to enhance the machining accuracy and extend spindle life.
Full enclosure, to maintain a smooth and low noise at high speed moving, the greatest degree of isolation fluid and chips chips, so that the line of rail and screw maintenance and service life to reach the best condition.
Z-axis used without the counterweight design, deploy and improve power servo motor drive function Z axis to achieve high-speed processing and optimal surface finish.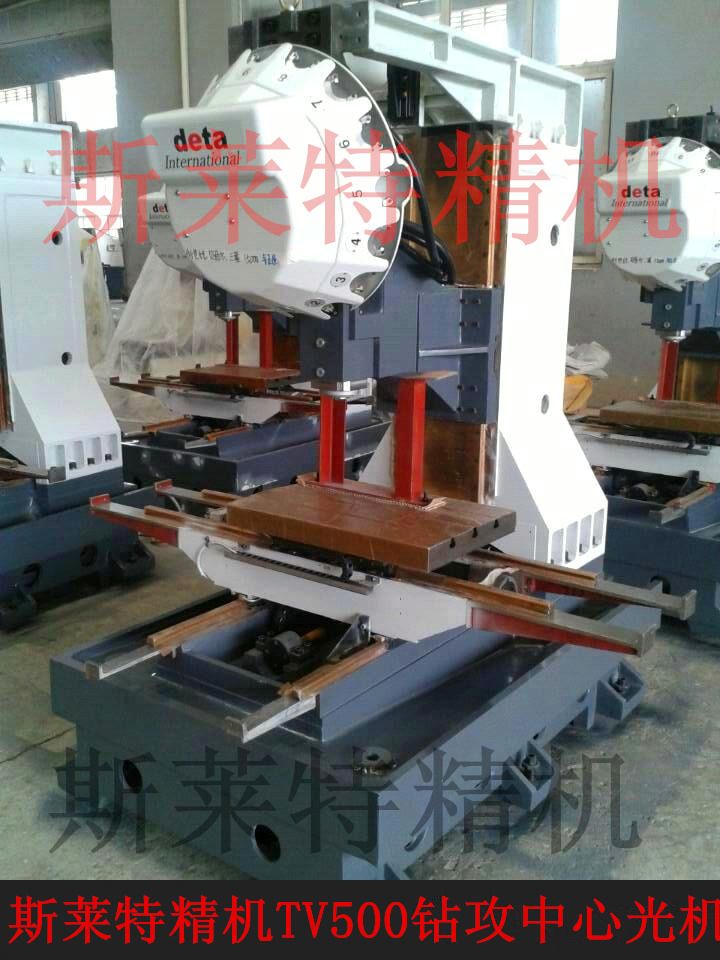 Machine parameters:
model

TV-500

TV-600

Control System

Siemens system 828D BASIC M / Mitsubishi system M70B / Fanuc 0I mateMD

Stroke

X-axis travel

500 mm

600 mm

Y-axis travel

400 mm

400 mm

Z-axis travel

300 mm

350 mm

Spindle nose to table spacing

150-450 mm

150-500 mm

Main shaft

Spindle Specifications

BT-30

BT-30

Spindle transmission method

Direct-coupled

Direct-coupled

Spindle speed

20000/15000/12000 rpm

20000/15000 / 12000rpm

Spindle power

3.7 / 5.5 kw

3.7 / 5.5 kw

Feed

X / Y / Z-axis rapid traverse

48/48/48 M / min

48/48/48 M / min

Three-axis ball screw (mm)

ø32 / P16 / C3

ø32 / P16 / C3

Three-axis linear guide rail (P-stage)

X / Y: 30mm Z: 30mm

Triaxial transmission method

Direct drive

Direct drive

Cutting feed rate

1 ~ 10000 mm / min

1 ~ 10000 mm / min

Table

Table size

600 x 400 mm

700 x 400 mm

T-slot (slot number * W * distance)

3 * 14 * 125 mm

3 * 14 * 125 mm

Maximum table load (evenly distributed)

300 kg

350 kg

Active tool change system

ATC active form

Clip arm

Clip arm

Number of active tool change

16 pcs

16 pcs

Maximum cutting depth

3 kgs

3 kgs

Others

Maximum weight machine

2800 kg

3000 kg

Machine dimensions (length x width x height)

2100 * 1600 * 2750 mm

1800 * 2500 * 2300 mm

Pressure needs

6 kg

6 kg

Electricity needs

15 KVA

15 KVA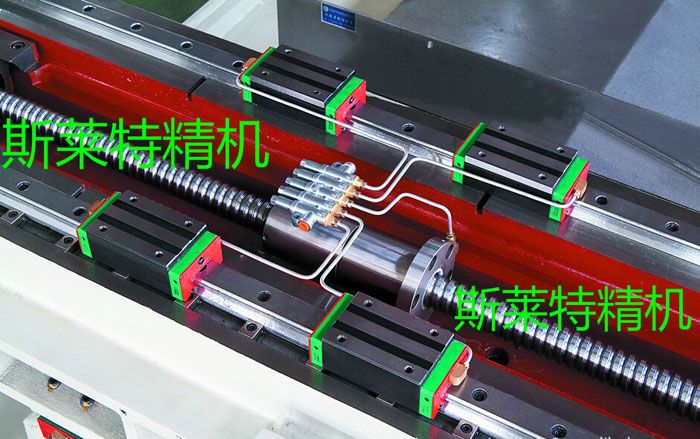 Standard configuration details:
| | | |
| --- | --- | --- |
| No. | Standard configuration | Place of Origin |
| 1 | Siemens 828D / Mitsubishi M70 controller | Germany / Japan |
| 2 | Siemens / Mitsubishi servo drive | Germany / Japan |
| 3 | Spindle | Taiwan |
| 4 | Silver / Intime drums bead screw / rail | Taiwan |
| 5 | Triaxial stretching shields | Taiwan |
| 6 | Centralized automatic lubrication system | Taiwan |
| 7 | FAG / NSK bearings bevel drums beads | Germany / Japan |
| 8 | Coupling | Taiwan / Germany |
| 9 | Operation panel unit | Taiwan |
| 10 | Contactor / breaker | Germany |
| 11 | Electric box air conditioning switch | Taiwan / China |
| 12 | Oil Cooler | Taiwan / China |
| 13 | Spindle blowing device | Taiwan |
Drilling center drilling Center attack machine, CNC drilling center, drilling center business, drilling center manufacturers, drilling center model, drilling center features, precision drilling center