High efficiency 15W solar exhaust fan with thermostat and brush/ brushless motor

Enjoy the gracious solar energy to let your roof space breath freely at anytime!
1650CFMs ventilation capacity in the full sunlights
15W 18V solar exhaust fan:
Pictures of 15w 18V solar exhaust fan:
Easy to install !
Solid, reliable standard packaging !

More choice: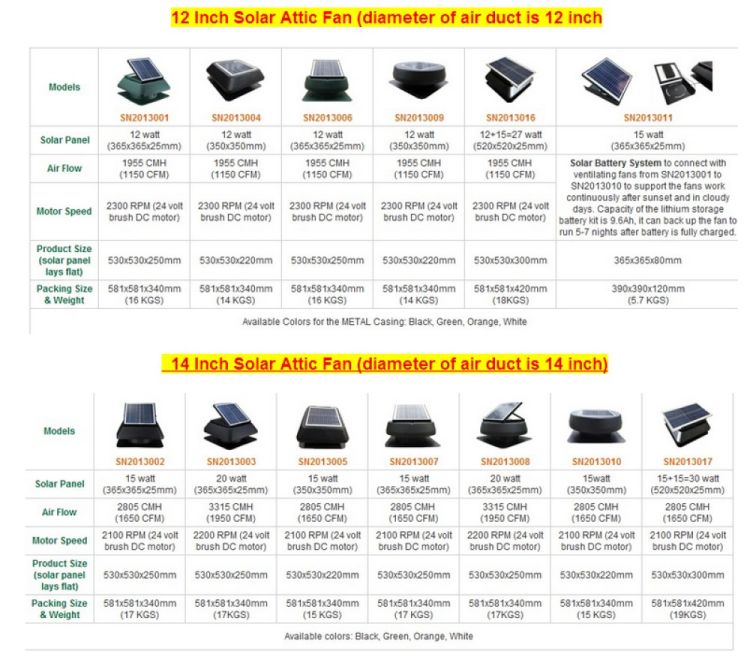 Our Services
1. Service Life & Warranty:

Solar Panel: service life 25 Years, warranty 5 Years
Brush DC Motor: service life 20000 Hours, warranty 3 Years
Brushless DC motor : Service life is about 6-7 years , warranty is 5 years
2. Product Services:
Payment methods accepted: T/ T, L/ C, Cash.
samples will be send out in 5-7 days. bulk order will be confirmed according the quantity.
Shippment: by sea/ by air/ by express.
Optional Accessories:
AC Complementary Controller (Optional) : In cloud day, it will switch to AC power supply automatically. So the
exhausted fan can work properly.
Back-up Power (Optional) : In cloud day or after sunset, it will switch to backup power supply automatically. The
solar attic fan continues to work making your attic temperature fall, so it will clean the stagnant air in your houseto build a cool and refreshing summer night. The professional solar attic fan can continue to run at night.
CE certification, standard packaging, good quality, welcome to order our 15w 18V solar exhaust fan !