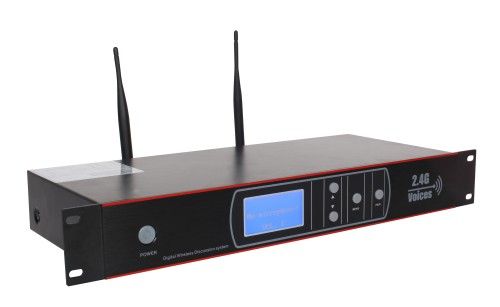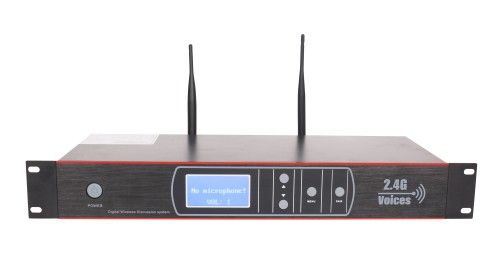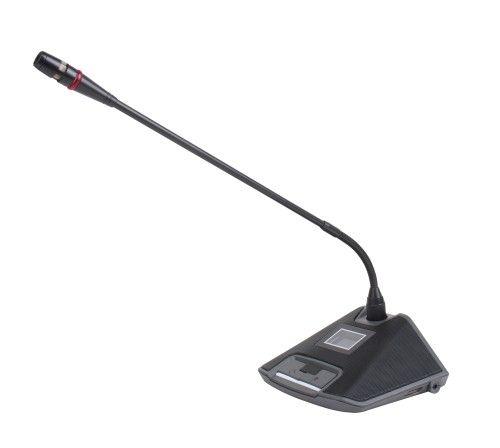 Parameters and indicators:
receiver

Parameter

launcher

Parameter

Frequency Range

2400 - 2483.5MHz

Frequency Range

2400 - 2483.5 MHz

System Capacity

Basic unit 50

Power

AA Battery: standby (73mA speech (114mA

Li Battery: standby (54mA speech (94mA

Demodulation

YFLFSK

Modulation

YFLFSK

Frequency stability

Automatic correction

Frequency stability

Automatic correction

Audio Frequency Response

20Hz-10KHz

Communication distance

10----60M

Distortion

THD (0.03%

Distortion

THD (0.03%

SNR

) 90dB

Battery Specifications *

AA X2

Display

3.4 "LCD screen high-brightness

Microphone rod length

40cm

Audio output

0-0.75V

Display

1 "LCD brightness LCD screen

Power Specifications **

DC12V 500mA

Speak display

Light ring, light screen

Line length

(20 m

battery power

Real-time multi-level display

Output Interface

1 * XLR Male 1 * JACK

Charging

5V 1000mA

Machine size

42.5cm X 18.5cm X 7.2cm

Machine size

After 16.5cm X 14.5cm X 6.5 cm, 1 cm before

* Speech unit can use two kinds of batteries, AA batteries priority

** Prohibit the use of non-native power, otherwise it will damage the circuit
Contrast: digital wireless conference system and wireless conference microphone, wired conference system
Compare Item

Digital Wireless Conference System

Analog wireless microphone session

Wired Conference System

Transmission Technology

Digital Modulation FSK

PLL phase-locked loop

Multi-core cable

Transmission

Packet A / D converted

Voice-frequency carrier

Digitally manage, transmit analog audio

Transmission Content

Audio packets, management instructions

Save voice modulated carrier signal

Analog audio

Voice Quality

Clean and clear fidelity

Significantly inferior to a wired system

Clean and clear,

Immunity

Packet isolated interference signal

Carrier erosion susceptible to interference noise

Shielded cable, interference

safety

Data encryption package and IC information transmission,

Non-registered match can not establish communication

PLL simulation technology, can easily be receiving a search frequency monitor

Cable transmission, Confidential

Connection

Clean and self-test frequency connection

Clean the filter settings manually frequency

Special cable with special plug

stability

Boot software correction set frequency

Frequency can not easily offset frequency

The cable interface damp because of oxidation and other signal losses, increased host load

Management function

Chairman of the function, FIFO

No management functions

Chairman of the function, FIFO

Power unit

Standby 54mA, 94mA speech

) 150mA

) 200mA

Management capacity

Unlimited number of units

1 with 4 or 8 with 1,

Not more than 60 units

Expansion

Host software upgrade and expansion, managed on behalf of more than 2000

Physical overlay, easily conflict with howling

Superimposed host expansion, higher costs

consistency

High tolerance components, easy to ensure consistency

Late debugging consistency and quality depend on the components technician

New good performance with the use of time and use of the environment will worsen

Extension

Video tracking, voting (Advanced)

no

Video tracking, voting
| | | | |
| --- | --- | --- | --- |
| Expansion of | Simply adding unit, the code can be quick | Complex, the need to manually calculate the frequency settings, additional configuration Receiver | We need to lay cable system unit can be added |
| Frequency resources | Each system occupies only one frequency, | Each microphone occupy a frequency, and will produce 2 times 3 times intermodulation interference frequency | No frequency occupancy |
Remarks:
About Confidentiality:
Traditional analog microphone using PLL phase-locked loop frequency modulated transmitter, a speech unit signal may be received by the receiver of numerous identical frequency points, based on the difference between close-range reception sensitivity far.
So important confidential place for the need for confidentiality, prohibited the use of all wireless devices, resulting in some places the need to use high-level meeting to discuss a wired system or infrared systems.
Working digital wireless conference system is built on the floor with the receiver unit mutual authentication architecture, each unit at the time of performing the registration statement, the statement inside the unit software based machine code with the receiver unit is returned back to the floor of the machine code calculation and stored; each unit can only speak to establish relations with a certified receiver only if the receiver's machine code and unit registration statement was consistent and machine unit can be opened speech speaking, so the situation does not exist out of the overcharged .
Analog wireless technology is always confidential transmission can not be done.